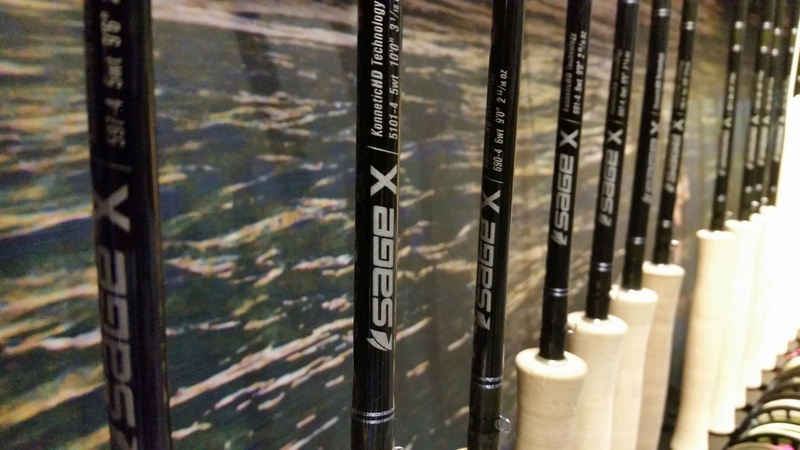 JUMP on these fresh discounts on SAGE X rods, 20% off while stocks last.
The X series has been an outstanding performer, but is being discounted to clear stocks ahead of a new headline fly rod series.
The American designed and made rods have been a favorite among many of our guides and customers, particularly the 6wt hopper/smallmouth model and the 8wt streamer stick.
In Stock Now all $760 (no free shipping on sale items):
10′ 5wt
9ft 6wt
9ft 7wt
9ft 8wt
The X rod's all-new fast action taper built with our KonneticHD Technology delivers greater blank recovery and a crisper tip stop -creating tighter, more efficient loops throughout all ranges of casting styles. This taper allows you to dig deeper into the rod and access the lower sections, shifting power closer to the angler.

Decreased lateral and medial movement and vibrations in the blankmresult in a more accurate and efficient presentation, resulting in a performance driven, forgiving fast action blank – refining the

synergy between angler, rod, line, and fly.

• KonneticHD Technology®

• Black Spruce blank color

• Dark Green thread wraps with Metallic Grey trim wraps

• Fuji ceramic stripper guides

• Hard chromed snake guides and tip-top

• Freshwater 3 – 6 weights:

• Vera wood insert with Stealth Black anodized aluminum up-locking reel seat

• Flor grade snub nosed half-wells cork handle

• Saltwater 5-10 weights:

• Stealth Black anodized aluminum up-locking reel seat

• Integrated hidden hook keeper in reel seat

• Flor quality full-wells cork handle with EVA fighting butt

• Laser etched line weight on slide band

• Black rod bag with Titanium logo and Black Spruce model tag

• Evergreen powder coated aluminum rod tube with Sage medallion