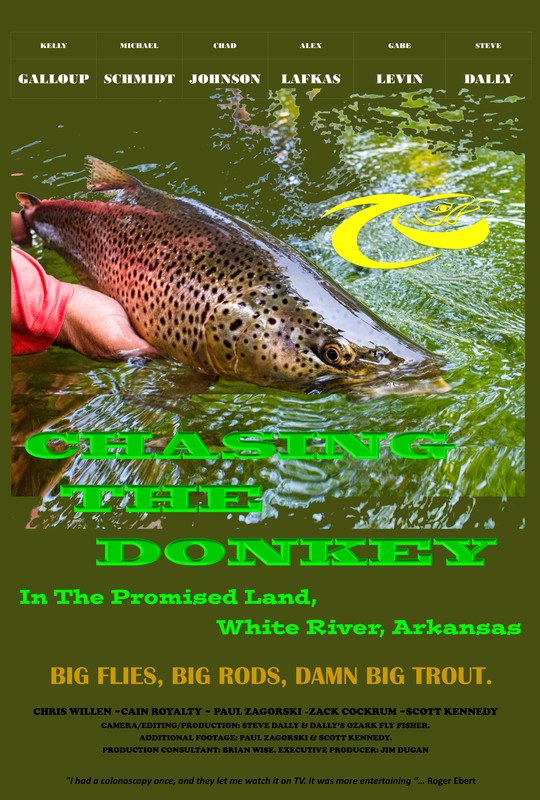 "Chasing the Donkey",a window onto the 2015 season for our four streamer guides on the Mecca of Big Flies and huge brown trout: The White River below Bull Shoals in northern Arkansas. CLICK TO SHOP
For the guides: Chad Johnson, Alex Lafkas, Steve Dally and Gabe Levin its 6 weeks of daily pressure to produce the biggest brown trout for their fly fisher's life. For streamer addicts from across the US a year of planning, hoping, dreaming of connecting with a true White River trophy trout, comes down to the next float, the next cast, the next strip.
Discover why the White River system is the Mecca for big fly brown trout hunters.
A huge thanks to the guides who put up with the cameras, the anglers who toughed out the hunt and gave their all successful or not, the support crew at Dally's Ozark Fly Fisher, also huge thanks to Kelly Galloup and Mike Schmidt for their assistance and inspiration and most of all the salmo trutta of the White River for turning up the heat.
BONUS CONTENT: White River Streamer Tying Videos from Chad Johnson, Steve Dally and Alex Lafkas, filmed and produced by Brian Wise of Fly Fishing The Ozarks and the man behind the most watched streamer video series on the web.
Learn some of our hottest patterns, CJ's Sluggo and Mega Minnow Dally's Lap Dancer and Lafkas' Modern Deceiver & Alex's tie of Russ Maddin's Krakken. $19.95